Selling online – points of attention
The need to be present online with your product has increased enormously during the corona crisis. But how do you ensure that your product is optimally visible on your own webshop, google, amazon or on the shop of a third party? What kind of product information is needed to inform and inspire the online consumer? Questions that Floral Innovations has been working on for years and is still learning every day.
In addition to images, so-called product content consists of technical product specifications (height/pot size/price), but also textual content such as care, origin and storytelling. And what about attributes such as product titles, icons, bullet points and added value?
Much of this data is available 'somewhere' in a system or folder… But how do you ensure that you get your product data quickly, easily and above all scalably to the right places?

Step by step
So it all starts with the efficient use of product data – which sounds quite simple, but if you don't have it in order, you will lose a lot of time. Plus, the market for plants and flowers has changed and so has the need for information. Based on this approach, we have expanded our services with a Product Information Management System (PIM). For us, PIM is the missing piece of the puzzle to link product content about plants and flowers to the right product photos and product combinations from Floraconcepts, and then to be able to offer the products on websites, marketplaces and to etailers.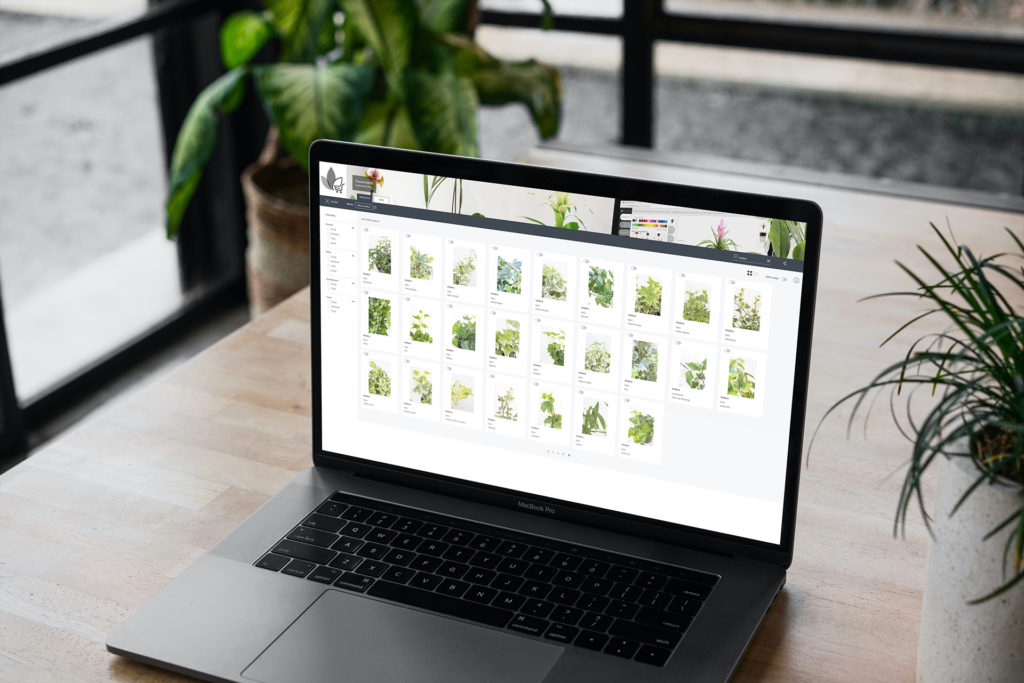 What is a PIM?
PIM is an abbreviation for Product Information Management. The most important task of a PIM system is to help a company to handle a large amount of complex product information and to distribute this data efficiently to the relevant sales channels. In short: in addition to technical (auction) characteristics of a plant, more and more photos and consumer content are being defined. Exporters, retailers and web shops are highly interested to receive this information in a data set optimised for them. And that is what a PIM can do.

Online & Offline
Although "online" is catching up considerably, a PIM system also has measurable added value for the traditional offline chain. It seems so easy: the grower produces the plant, sells the product directly, or via intermediaries to the shop floor, and provides the consumer in any country with the correct product information in the correct language and tone of voice. That's how it should be! In practice, however, things turn out rather differently. Applications, care instructions, important characteristics and inspiration often do not even reach the selling agent or the shop employees. Therefore it is not surprising if the product does not sell as well as expected.
By using a visual PIM system, we counteract this problem. We want to provide everyone in the floriculture sector with relevant product information. Not with dusty Excel lists, but with dynamic product catalogues and product data sheets, which can be shared and accessed at customer level both online and offline. We believe in ONE system, one single source of information when it comes to management, creation and application of product information.